American Gold Coins
American Eagle Bullion Coins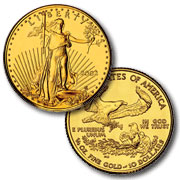 Authorized by the Bullion Coin Act of 1985, American Eagle Gold Bullion Coins have quickly become one of the world's leading gold bullion investment coins. Produced from gold mined in the United States, American Eagles are imprinted with their gold content and legal tender "face" value - which is largely symbolic.

Gold Eagles are minted at West Point, New York and Philadelphia, Pennsylvania and come in four sizes: 1-ounce, 1/2- ounce, 1/4-ounce, and 1/10-ounce. The 1-oz coin is by far the most popular and sells at a small premium over the value of its gold content. The smaller coins sell at higher premiums. American Eagles use the durable 22-karat standard established for gold circulating coinage over 300 years ago. They contain their stated amount of pure gold, plus small amounts of alloy (91.6% gold and 8.4% of a copper-silver alloy). This creates harder coins that resist scratching and marring, which can diminish resale value. All four coins carry the same design - obverse being the classic work of Augustus Saint-Gaudens and the reverse by Miley Busiek.
$20 Gold Double Eagles
Two different types of Double Eagles with a legal tender value of $20 were issued in US history. The Liberty Head was issued from 1850-1907, and the famed St. Gaudens $20 was issued from 1908 until 1933 when the practice of issuing gold coins was stopped in the United States of America.

The Liberty $20 Double Eagle was designed by James Barton Longacre and has a weight of ~516 grains (~33.4 grams) - of which 90% is pure gold. The Double Eagle was the largest denomination of all regular US issued coins whose production was authorized in large part by the California Gold Rush of 1849. The design features the head of Liberty with a coronet. The basic design was continued into 1907 with two modifications to the reverse; in 1866 the motto "In God We Trust" was added to the reverse and in 1877 the denomination was changed from 'TWENTY D.' to 'TWENTY DOLLARS'.

The St. Gaudens $20 Double Eagle was designed in 1907 by Augustus Saint-Gaudens at the request of then President Theodore Roosevelt. Many consider it one of the most beautiful and appealing gold coins ever designed. They have a weight of ~516 grains (~33.4 grams) - of which 90% is pure gold giving them .96750 oz of pure gold. Following the recall of gold coins in 1933 and their subsequent melting, it was learned that many issues of the 1920s and 1930s, despite high mintages, were very rare. After World War II Switzerland, Argentina, and other countries released large quantities of double eagles and other gold coins from their vaults providing a supply for collectors. The St Gaudens $20 Double Eagle is still one of the most sought after gold coin for collectors/investors of all levels.
In the United States; pre-1933 Gold Coins are not subject to confiscation – they are private and non-reportable.
US Gold Coin Auctions
---
Copyright© Gold Coin Shop .com All rights reserved.