Silver Bullion Bars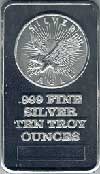 Silver is a valuable industrial commodity and an appealing investment. Silver bullion bars are also a good way to build an investsment in silver. Like gold, silver bullion bars are also stamped with the refinement and weight of silver contained in them and can be an efficient way to purchase silver, especially when buying large quantities. Silver bars range in size by weight from 10 grams, 1 ounce, 10 ounces, 100 ounces and finally the massive 1,000 troy ounce silver bullion bars.

Unlike gold, governments and central banks do not have holdings in silver. Since silver is also a very important industrial metal, various companies either hold silver or have rights/futures/options to silver stored at the COMEX warehouses. The COMEX holds silver bullion in 1,000 oz bars. The best way for individuals to invest in silver bullion is probably through 100 oz bars. These are very popular in the retail silver bullion market and are easily to transport and store.



The larger 1,000 oz silver bullion bars are not so simple to handle and store so often their purchase is most practical for very large purchases of silver when the intention is to store the silver bullion in a qualified precious metals repository or bank as a long term investment. There are some insurance and transportation costs involved in this exercise but you can definitely take physical delivery of the 1,000 oz silver bars from the COMEX warehouse and arrange for your own storage.

Overall, silver bullion bars, coins or scrap should form part of the precious metals allocation of any diversified investment portfolio. They provide the security of silver without high overhead costs and premiums sometimes associated with silver coins.


Silver Bullion Auctions
---
Gold Coin Shop.com Copyrightę All rights reserved.