European Gold Coins

Europe has a long tradition of gold coins, dating all the way back to Roman times. Today, there are no circulating gold coins, but collector and investors can find many bullion and older European gold coins to choose from.

British Gold Sovereigns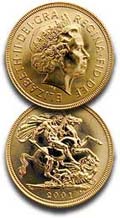 British Sovereigns are one of the most recognizable gold coins arcoss the world - Gulf War pilots carried as part of their survival gear just in case they were downed in Iraq. Sovereigns have always been ranked among the most attractive coins in the world. This gives sovereigns liquidity and portability and privacy uncommon with gold coins. Modern gold sovereigns were first issued in 1849 during the reign of King George III. The sovereign was a real circulating coin until the outbreak of the First World War in 1914. For almost two centuries, Britain held the position as the World's premier power. Her empire stretched around the globe and the gold sovereigns she produced portrayed the likeness of her Kings and Queens. They were struck from Australia to Canada but because most coins were widely circulated and many were melted down during World Wars I and II. The production of gold sovereigns was restarted in 1952 as bullion coins and they have since been produced as bullion and proof coins. Sovereigns contain apporximately a fourth of an ounce of pure gold, while half sovereigns contain approximately and eight of an ounce of gold.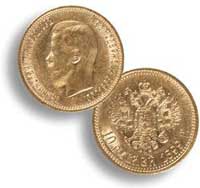 Russian Gold Rubles
Russia has long been known for its abundant natural resources, including gold, silver and other precious metals. The most popular gold coins from Russia are the gold Rubles - usually seen in 5, 7.5, 10 and 15 Ruble denominations all contaning .900 pure gold. These coins are favourites amongst collectors and investors since many of them disappeared during the Russian Revolution, WWII and seventy plus years of communism. The last set of 5 Ruble gold coins were issued by the Rommanovs. They feature a double-headed imperial eagle on reverse; Tsar Nicholas II's bust beautifully sculpted on obverse and contain an eight of an ounce of pure gold. The last 7.5 ruble issue was by Nicholas II and is often considered one of the rarer Rubles around. The final 10 Ruble gold coin was also issued by the Rommanovs, contains approximately a quarter ounce of pure gold and physically looks like the smaller 5 Ruble issue. Finally, the Nicholas II 15 Ruble gold coin is considered to be the rarest of the set, very few exist as the majority did not survive the Russian revolution and 70+ years of Communism.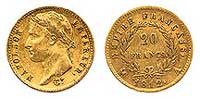 France Gold Francs
French gold Francs were minted from 1800 to 1914. The 20 Gold Francs contains approximately 1/5 ounce of pure gold and is by far considered one of the best invesment/collector European gold coins of its age. The 40 Franc Gold Napoleon laureate coin coin had 2/5 ounce of gold and the 50 Franc coin had approximately 1/2 ounce of gold. The main use of these gold coins in France's history was to buy armies for wars. When Napoleon's army marched against Russia in 1812, these coins were known throughout Europe as "Napoleons." After the Russians thwarted Napoleon's world conquest, these coins virtually disappeared (the vast majority were melted down or hoarded away).
Polish 20 Zloty Gold

Another interesting European gold coin is the 20 Zloty gold coin issue from Poland. About the time of the first millennium, King Boleslaw I of Poland was expanding his territory in Eastern Europe. He was crowned the first king of Poland in 1024 and he died only one year later. In 1925, on the 900th anniversary of his death, Poland minted these .900 pure gold 20-Zloty coins. Obverse features profile of King Boleslaw I and the 900-year anniversary dates.





International and European Gold Coin Auctions
---
Gold Coin Shop.com Copyrightę All rights reserved.