International Gold Coins
South African Gold Krugerrand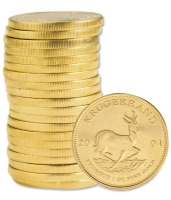 South Africa has one of the highest amount of gold reserves of any country. It has been producing gold since back in 1886 and dominating the gold market. During colonial times, sovereigns were minted in Pretoria - but since 1967 the Krugerrand has come to rule the bullion output from South Africa. South African Gold Krugerrands are a low-priced, high-quality gold bullion coin that is heavily traded throughout the world. Krugerrands come in four sizes: 1-ounce, 1/2-ounce, 1/4-ounce, and 1/10-ounce with the 1-oz coin being the most popular with their gold content guaranteed by the Government of South Africa. All four coins carry the same design - the obverse side of the coin, designed by Otto Schultz, depicts a bust of Paul Kruger, the last president of the Republic of South Africa. The reverse side, designed by Coert Steynberg, depicts the image of South African gazelle called a springbok. Krugerrands are 22 karat gold, being alloyed with copper and are legal tender coins in South Africa.
Other Gold Coins
Other gold bullion coins include Australian Nuggets, Chinese Gold Pandas, Mexican 50 pesos, Austrian Philharmonics, and Hungarian 100 Koronas (sister coins to the Austrian 100 Coronas).





International Gold Coins Auctions
---
Gold Coin Shop.com Copyrightę All rights reserved.