Silver Coins
American Silver Eagle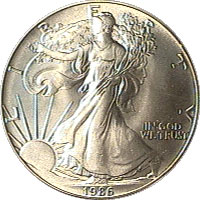 When introduced in November 1986, these dazzling coins immediately dominated the coin collecting/investment market. Today they are the number one selling silver bullion coin in America. The design of the coin has garnered many accolades and given the coin a reputation of being one of the most beautiful coins ever produced. The observe side of the American Eagle silver coin is the graceful "Walking Liberty" by Adolph A. Weinman, originally used by U.S Silver half dollars from 1916 through 1947. The memorable "Heraldic Eagle" by John Mercanti graces the reverse side as an enduring symbol of American strength.

The Silver Eagle is the largest coin ever struck by the US Mint. It is 40.6 mm (almost 1.6 inches) in diameter and contains one troy ounce of .999 silver. They have a face value of $1 and are certified as legal tender. They're the only silver bullion coins whose weight and purity are guaranteed by the United States Government. The other most popular US silver coin has to be the Morgan dollars.

Canadian Silver Maple Leaf
The Maple Leaf - the most recognized of all Canadian emblems - beautifully adorns this brilliant 99.99% pure silver coin. These legal tender coins carry a $5.00 face value and were first minted in 1988. Silver Maple Leafs are about the same size of a silver-dollar coin and are popular with both collectors and investors around the world.
Other Silver Bullion Coins
Some of the other silver bullion coins available to investors and collectors include Australian Kookaburas, Chinese lunar silver coins, Silver Pandas, and Mexican Libertards. Pre-1965 U.S. 90% silver coins (and pre-1968 Canadian 80% silver coins), which were used as money until the mid-1960s are also popular with silver investors as a cheap way of accumulating the metal.





Silver Coin Auctions
---
Gold Coin Shop.com Copyrightę All rights reserved.