Canadian Gold Coins
Canadian Gold Maple Leaf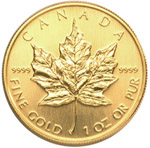 The Royal Canadian Mint introduced the Maple Leaf series of bullion coins in 1979. Made of 99.99% pure gold, Gold Maple Leaf coins come in five sizes ranging from 1 oz. to 1/20 oz. The Royal Canadian Mint was the first world mint to commercially produce 99.99% pure gold coins. This innovation gave the Gold Maple Leaf instant recognition when it was introduced to the bullion coin market years ago, and it remains the most well recognized and sought after bullion coin in the market today. For circulating coins pure gold would be too soft to be sufficiently durable, but that is not a big disadvantage for bullion coins. The Maple Leafs though are easily scratched and require care when handling. Scratched, dropped or dinged Maple Leafs with rim nicks can be discounted when resold. Pure old though has a beautiful colour and being of higher density, also has a higher quality feel.

14k & 22k Commemorative Canadian Gold Coins
The Royal Canadian Mint also issues 14k and 22k gold coins with a $100 or $200 denomination. These commemorative coins contain a 1/4 or 1/2 troy ounces of pure gold though the denominations do not always correspond. They were first minted in 1976 commemorating the Montreal Olympics, and have since been minted yearly celebrating various Canadian themes and historical events.
Early Canadian Gold Coins
Canada started minting gold coins in 1912 - though current provinces of New Foundland and British Columbia were minting their own gold coins before joining the Dominion of Canada. Gold coins were issued in $5/$10/Sovereign denomination and are much rarer than the more recent bullion issues.





Canadian Gold Coin Auctions
---
Copyrightę Gold Coin Shop.com All rights reserved.